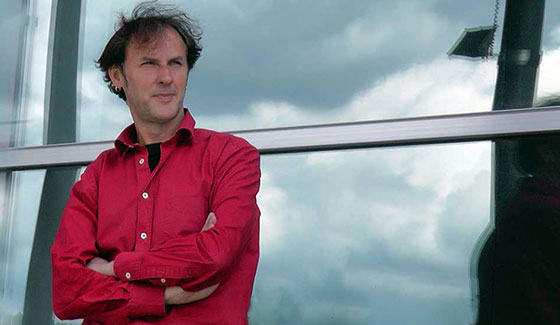 English
João Ricardo de Barros Oliveira born in Viana do Castelo, Portugal, works in Portugal and Germany (Berlin), where he centralises the development of his activity as a sound musical sculptor.
He dedicates himself predominantly to the creation of new sounds in instruments. His work ranges from sculptures to the conception of musical instruments and sonorous objects, constructed from materials and objects that have been recuperated from rubbish. The creation of sculptural objects capable of producing sounds with exclusive identity, which are never complete and always evolving into new unknown sounds, made from ´found objects´, has been his crusade for more than a decade of aesthetic and sound experimentation. The experimentation of sound languages is a project that allies itself to sculpture and the transformation of rubbish into sounding art.
He has collaborated with various Portuguese and international artists. He has participated in numerous international music festivals; he has conducted workshops with children and seniors on the construction of instruments using rubbish. He has presented his music on radio and television in Norway, Portugal, Spain, and Germany and in the United States. He also composed music for movies where he also acted.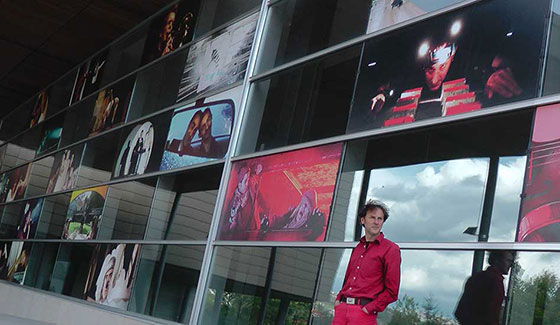 Português
João Ricardo de Barros Oliveira natural de Viana do Castelo, trabalha entre Portugal e Alemanha, Berlim, onde centraliza o desenvolvimento da sua actividade de músico-escultor plástico sonoro.
Dedica-se predominantemente à criação de novos sons instrumentais. A dimensão da sua obra chega desde esculturas até à concepção de novos instrumentos musicais e objectos sonoros, construídos a partir de objectos recuperados do lixo. A criação de objectos esculturais capazes de produzir sons com identidade própria, que nunca estão prontos e evoluem sempre para novas e inusitadas sonoridades, a partir de "objects trouvés" tem sido a sua cruzada de mais de duas décadas de experimentação estética e sonora. O ensaio de novas linguagens num projecto que se alia à escultura e à transformação do lixo em arte plástica sonora.
Colaborou com diversos artistas portugueses e estrangeiros, participou em numerosos festivais internacionais de música, dirigiu "workshops" para crianças e seniores sobre construção de instrumentos a partir do lixo, apresentou a sua música na rádio e televisão na Noruega, Portugal, Espanha, Alemanha, Inglaterra, Austria e nos E.U.A compôs música para filmes de Anna Hoegh Krohn, no qual também actuou como protagonista.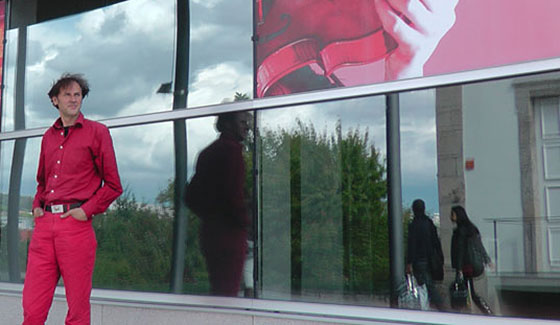 Deutsch
João Ricardo de Barros Oliveira, geboren in Viana do Castelo, Portugal, widmet sich vorwiegend der Kreation neuer Klang-Objekte und neuer Klänge.
Seine Arbeit umfasst Konzeption, Bau und Bespielung neuer Instrumente und Musik-Skulpturen. Seine "Objectos sonorus" sind überwiegend aus gefundenen Materialien und Gegenständen gebaut. Seit mehr als einem Jahrzehnt entstehen so einzigartige skulpturale Instrumente mit denen neue Klänge von exklusiver Identität erzeugt werden. Die Instrumente und die Kompositionen werden dabei ständig weiterentwickelt. Die Ästhetik der Klang-Experimente beruht dabei auf der Idee der Umwandlung von Schrott (portugiesisch: lixo) in klingende Kunst, also Luxus (portugiesisch: luxo).
Die Objekte von João Ricardo de Barros Oliveira wurden in Ausstellungen, Installationen und Performances präsentiert. Er hat an zahlreichen internationalen Musikfestivals teilgenommen und mit verschiedenen portugiesischen und internationalen Künstlern zusammengearbeitet. Ein weiterer Schwerpunkt seiner Arbeit sind Workshops mit Kindern und Senioren für den Bau von Instrumenten. Er hat seine Musik im Radio und Fernsehen in Norwegen, Portugal, Spanien, Deutschland und in den Vereinigten Staaten vorgestellt und realisierte Musik für Filme, in denen er auch als Darsteller auftrat. João Ricardo de Barros Oliveira lebt und arbeitet in Portugal und Deutschland (Berlin).